The Instant Pot is making life easier for many. It seems like the hottest trend to hit kitchens since microwaves. People are getting rid of their rice cookers, pressure cookers, slow cookers, and even yogurt makers, and replacing these gadgets with the Instant Pot. Why? The Instant Pot has several buttons which offer various features. It allows you to cook something in a hurry or have it waiting for you when you get home, whichever is better for you.
The Instant Pot also lets you to declutter since you don't need all of those other appliances. You can have just this one appliance to do most of the things needed. However, keep in mind, you can't pressure can with the Instant Pot and it's easy to overcook veggies. According to Delish, you should "avoid cooking veggies like broccoli, kale, zucchini, mushrooms, and brussels sprouts in there." If you do, they recommend that you use "the Quick Release to release steam."
Even with these potential cons, the Instant Pot makes cooking easier. In fact, the Instant Pot Smart is Bluetooth friendly, allowing you to control it from your smart devices. But, if you're new to Instant Pot, make sure to get acquainted with the machine first, read the instructions and get to know the features. Start out with a few simple recipes until you really get the swing of things. Once you have the Instant Pot down, then you can create masterful dishes with ease.
Here are a few recipes we found that look delicious!
Instant Pot French Dip Sandwich from NO. 2 PENCIL
Instant Pot Twice Baked Potatoes Casserole Recipe from Eating on a Dime 
Instant Pot White Bean Chicken Chili from Allergy Free Alaska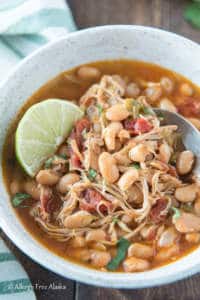 Instant Pot Angel Food Cake with Powdered Sugar Glaze 
New York-Style Instant Pot Cheesecake from Little Spice Jar
Instant Pot Beef Gyros from 365 days of Slow Cooking and Pressure Cooking